2023 BEST "Bowlers of Eastern Scholarship Tours" $5000 Event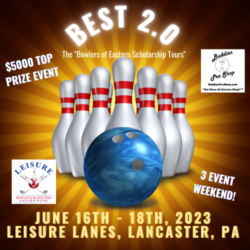 **Scroll Down For Payment Link**
After a Successful 18 Year Run of the biggest youth event on the East Coast….the Tradition Continues!
With our Kickoff Event/Main Event & Adult/Jr Event.
June 16-18 @ Leisure Lanes, Lancaster, PA
Sponsored by 
BuddiesProShop.com
* These events are expected to draw bowlers in states all over the expanded Northeast Part of the USA! *
———————————–
THE MAIN EVENT: BEST 2.0
$5000 FIRST PLACE OVERALL singles
$1000 First Place High Girl
$1000 High Handicap Bowler
ALL TOP PAYOUTS GUARANTEED!!
*This event is a singles event over 2 Days.
Qualifying Saturday 8am for all athletes
Semi-Finals and Finals on Sunday 9am
*Event is open to ALL bowlers under the Age of 21 as of August 1, 2021.
Bowlers can earn an entry into the event….use earned MAPS scholarship money to enter….or simply buy their entry into the event.
Entry Fee: FREE* – $120 IF YOU QUALIFIED FOR BEST THRU A BOWLING EVENT or $160 walk-in entry. Can take the first 208 bowlers registered.
See entry blank on our website below for additional rules & details
———————————–
THE KICKOFF EVENT:
3-PERSON BAKER TRIO EVENT
$1500 ESTIMATED TOP PRIZE ($500 PER)
2 Divisions – Scratch or Handicap
NEW! *This event is a 3-Person Team Tournament in which ANY 3 ELIGIBLE BOWLERS can team up to bowl! *
Baker Format Tournament in which teams take turns bowling one score for their team.
Entry Fee: $40 per bowler by 6/4/23 or $50 at the door
Entry blank will be on our website below
————————————-
THE 2ND CHANCE EVENT:
ADULT-JUNIOR EVENT conducted by the STORM Mid-Atlantic Youth Bowlers Tour
Teams must consist of 1 sanctioned youth bowler and 1 sanctioned adult bowler.
Further Details to follow as posted by the Mid-Atlantic Youth Bowlers Tour.
** If you sign up for this event in advance and make the cut to the BEST Main Event Finals….arrangements will be made to refund your entry fee **
So don't hesitate to sign up for it ALL!
**THIS YEAR'S EVENTS WILL PROVIDE BOWLERS WITH THE OPTION OF WHETHER THEY WANT THEIR SCHOLARSHIP MONEY IN "SMART" OR "MAPS". So come out and compete in the Biggest Event on the East Coast Before Junior Gold!! **
—————————————–
MASSIVE SILENT AUCTION
* How would you like to win the following?* Over 25 Prizes in All
COLOR TELEVISION
APPLE WATCH
COOKWARE SET
COACH PURSE
TV SOUND BAR
BEATS RADIO HEADPHONES
PRESSURE WASHER
KUERIG COFFEE MAKER
APPLE AIR PODS
VARIOUS BOWLING BALLS FROM EVERY COMPANY
and so much more..
**Prizes are subject to change **
Tickets will go up for sale soon. We will announce ways to purchase.
All proceeds benefit the Scholarship Funds for the weekend.
Event Information
Event Date/Time: 06-17-2023 @ 8:00am