2023 BEST Weekend 2nd Chance Adult-Jr Event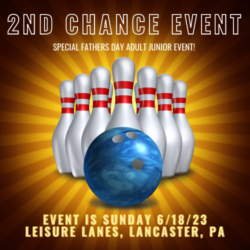 ADULT-JUNIOR EVENT conducted by the STORM Mid-Atlantic Youth Bowlers Tour
Teams must consist of 1 sanctioned youth bowler and 1 sanctioned adult bowler.
Further Details to follow as posted by the Mid-Atlantic Youth Bowlers Tour.
* ALL payments for this event will NOT go thru our website.  See
** If you sign up for this event in advance and make the cut to the BEST Main Event Finals….arrangements will be made to refund your entry fee **
So don't hesitate to sign up for it ALL!
Event Information
Event Date/Time: 06-18-2023 @ 10:00am