BEST 2.0 WEEKEND – 2nd Chance Event – Multiple Squad ADULT-JUNIOR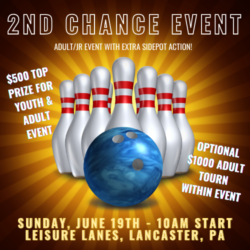 This new event will conclude the New Best 2.0 Championship Weekend.   A chance for bowlers who are eliminated from competition Saturday or Early Sunday can still compete for massive scholarship prizes!  In addition, there will be an adult tournament within the event – estimated to payout at least $500 Top Prize to the registered adult.
**IF YOU SIGN UP IN ADVANCE AND MAKE THE SEMI-FINALS/FINALS OF THE MAIN EVENT – We will refund your deposit or entry — similar to what Junior Gold does on their 2nd chance event.  Bowlers who qualify for Sunday Quarterfinals but do not make semi-finals….will still be able to bowl Squad 2 of the Adult-Junior. **
BEST stands for Bowlers of Eastern Scholarship Tours.  The Main Event is the Biggest Youth Bowling Event on the East Coast.  Created in 2005, this event has given away millions of dollars in scholarship.  The main event has a GUARANTEED TOP PRIZE OF $5000 — GUARANTEED TOP PRIZE OF $1000 FOR HIGH GIRL and GUARANTEED TOP PRIZE OF $1000 FOR THE HANDICAP DIVISION CHAMPION.  This year's events are all sponsored by BuddiesProShop.com.
This is the new 2nd Chance Adult-Junior Event.  Teams consist of any SANCTIONED YOUTH BOWLER AND SANCTIONED ADULT BOWLER.  Each team must have a youth and adult bowler.
2 Divisions of Scratch & Handicap.  2 Squad Times of 10am and 2pm.
Top prizes on this event:  $1000 in Each Division ($500 per bowler) based on entries.  Estimated top Adult Bonus Prize of $500.
Entry Fee:  $40 per bowler if signed up online by 6/5.  After 6/5, entry is $50 a bowler.    Youth can use earned MAPS Scholarship Money to enter this event.                                                                        **PLEASE NOTE:  When paying for this event online, there is no auto select button for your entry.  PLEASE click CUSTOM AMOUNT and pay $40/$50 per bowler or $80/100 for your team. **
Format:  Bowlers will bowl 4 Games across 8 lanes.  Results are final after the 4 games.  The scores from both squads will be put together to determine the final results.  For adults, there will be a side adult tournament within the tournament.  For $30 entry fee (all $30 prize) we will pay out the top adult bowlers based on their scores in the qualifying rounds of the adult-junior.  Re-entries are permitted for squad two if space exists.  You can bowl with the same partner in each squad.
Come out and join us for a great finale event on the new BEST 2.0 Weekend!
Event Information
Event Date/Time: 06-19-2022 @ 10:00am