BEST 2.0 MAIN EVENT – $5000/$1000/$1000 SCHOLARSHIP TOP PRIZES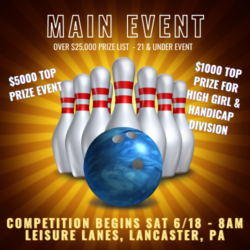 THIS IS THE MAIN EVENT!  Open to all bowlers 21 years of age or under as of August 1, 2021.
BEST stands for Bowlers of Eastern Scholarship Tours.  The Main Event is the Biggest Youth Bowling Event on the East Coast.  Created in 2005, this event has given away millions of dollars in scholarship.  The main event has a GUARANTEED TOP PRIZE OF $5000 — GUARANTEED TOP PRIZE OF $1000 FOR HIGH GIRL and GUARANTEED TOP PRIZE OF $1000 FOR THE HANDICAP DIVISION CHAMPION.  Every year, this event gives away OVER $30,000 IN SCHOLARSHIPS…and we hope to exceed that this year thanks to our sponsor and silent auction.       This year's events are all sponsored by BuddiesProShop.com.
BUDDIESPROSHOP.COM is sponsoring this event with a $3500 Cash Donation!!  We would greatly like to thank BuddiesProShop.com and Chris Forry for their continued support of youth bowling in our area.  If you see Chris, thank him for being part of such a great event.
This event is an event that you could have qualified for through a PJBT event OR is also open to walk-ins.  Entry Fee is $120 for a qualified bowler or $160 walk-in fee.                                       PLEASE NOTE:  Your entry fee to compete could be FREE!  If you earned scholarship money with PJBT and MAPS, or Chuck Pezzano and the JBT….you can use unearned scholarship money towards your entry into the event.  If you use scholarship money to enter, you would be subject to $160 walk-in fee for entry.  For the website, you can pay your entry online below here….or, if you plan to use scholarship….please message Stacey Sattazahn to have your name added to the entry list.
IF YOU PAY ONLINE, please note there is no auto button to pay $160.  Please when paying, choose Custom Amount and you can input the amount you want to pay.
Format:  Bowl 6 Games of qualifying Saturday Morning on Pattern #1…..take a lunch break….return to Bowl 6 More Games of qualifying to complete the full 12 games of qualifying.  All handicap bowlers are competing in both divisions of Scratch and Handicap.  Handicap results are complete after Game 12.  The top women's results could carry into Sunday, depending on whether any of them make the first cut to Sunday.  The top 40% of the Overall Scratch Field advances to Sunday's competition of match play.  The 40% of the field will bowl 5 games of head-to-head match play with the scores carrying forward.  After 17 games, the field is cut another 40% for an additional 5 games of match play.  At the completion of 22 games, the top 10 bowlers advance to our livestreaming Best 2.0 Finals.   Finals consist of 3 shootout matches and 3 stepladder games to determine our $5000 Champion.
We also will have unlimited options for sidepots.  Cash or credit for additional scholarships.
Finally, to benefit the prize fund of the event….we will be conducting a silent auction.  Tickets will be on sale on-site and you do not have to be present to win.
Some of the prizes include:
BOWLING BALLS & VARIOUS BOWLING PRIZES
APPLE WATCH
40 INCH TELEVISION
SAMSUNG SOUNDBAR
KATE SPADE PURSE
BEATS HEADPHONES
AEROGARDEN
PRESSURE WASHER
COOKWARE SET
CROCK POT SET
Sign up online now for the Biggest 21 and Under Bowling Event on the East Coast.  Some have nicknamed it the Junior Gold Regional Event.  See flyer for further details.
We hope to see you in Lancaster, PA
Event Information
Event Date/Time: 06-18-2022 @ 8:00am