BEST 2.0 WEEKEND – Kickoff Event – "Battle of the States" Baker Trio Tournament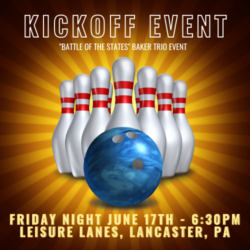 This new event will kick off the New Best 2.0 Championship Weekend.   A chance for bowlers to team up and prove WHO is the best state in the land?
BEST stands for Bowlers of Eastern Scholarship Tours.  The Main Event is the Biggest Youth Bowling Event on the East Coast.  Created in 2005, this event has given away millions of dollars in scholarship.  The main event has a GUARANTEED TOP PRIZE OF $5000 — GUARANTEED TOP PRIZE OF $1000 FOR HIGH GIRL and GUARANTEED TOP PRIZE OF $1000 FOR THE HANDICAP DIVISION CHAMPION.  This year's events are all sponsored by BuddiesProShop.com.
This is the new Friday Night Kickoff Event.  Teams consist of three bowlers from the same state.  State is determined by mailing address.   That mailing address could be their permanent family home or their college home/address.   This event open to any bowlers 21 years of age or under as of August 1, 2021.
2 Divisions of Scratch & Handicap.  Top prizes on this event:  $1500 in Each Division ($500 per bowler) based on entries.  Payout ratio 1:5 teams.
Entry Fee:  $40 per bowler if signed up online by 6/5.  After 6/5, entry is $50 a bowler.                                                                                                                                                                                            **PLEASE NOTE:  When paying for this event online, there is no auto select button for your entry.  PLEASE click CUSTOM AMOUNT and pay $40/$50 per bowler or $120/150 for your team. **
Format:  Bowlers will bowl 15 baker games.   Bowler 1 will bowl frames 1,4, 7, 10 – Bowler 2 will bowl frames 2,5, and 8 – Bowler 3 will bowl frames 3,6,9 to make one score for their team.  They will rotate positions each game.  After 15 games, the results are final.  See entry blank below for further details.
Come out and join us for a great new kickoff event to start BEST 2.0 Weekend!
Event Information
Event Date/Time: 06-17-2022 @ 6:30pm