Brandon Runk Becomes 2nd PJBT bowler to also Win an Adult Title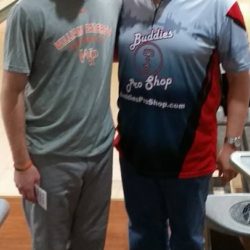 The BuddiesProShop.com Adult Bowlers Tour continued its season with its 4th event of the year.  This month's event was a Singles Event at Town & Country Lanes in Bethlehem, PA.   On this day, we saw 43 scratch bowlers take to the lanes on the WTBA Atlanta Pattern.
On this day, Brandon Runk became the 2nd PJBT regular bowler to capture a BuddiesProShop.com Title.  Runk follows in the footsteps of Bradley Crouse, who won years ago at the same bowling center, Town & Country Lanes.  Runk shot games of 215, 247, 236, 183, 193, and 245 for the 6 games of qualifying.  This saw him stand at +119 and was the #2 seed entering the stepladder finals.  Runk only trailed tournament leader Kevin Harrity.  We had some very exciting title matches for our livestreaming finals on this day.  In the semi-final match, Runk took on Jacob Kerstetter.  Kerstetter looked to be advancing as Runk finished his game with a 201.  Kerstetter only needed a mark in the 10th frame to win…..Kerstetter leaves the 3-6-10 spare and chops the 3 off of the 6-10 for an open frame in the 10th.  This handed Runk the victory 207-201.  Runk, who looked slightly lost in that match….made adjustments for the title match.  Runk took on Kevin Harrity for the title.  Runk never looked back.  He strung together 5 strikes in the title match and shot 257 on his way to victory.  Runk defeated Harrity 257-200.  Runk took home the $1000 top payout prize.
| | | |
| --- | --- | --- |
| 1st | BRANDON RUNK | $1000 |
| 2nd | KEVIN HARRITY | $500 |
| 3rd | JACOB KERSTETTER | $250 |
| 4th | RICH SALOBECKE | $200 |
| 5th | BRENT TISHUK | $120 |
| 6th | RICK GRAHAM | $90 |
| 7th | ZACHARY DRAGOVITS | $75 |
| 8th | JIM TAYLOR | $65 |
| HIGH | OVER 45 BOWLER — RICH SALOBECKE | $140 |