Keith Poppiti & Mike Taylor Survive Tough Field to Win Over/Under 45 Doubles at Berks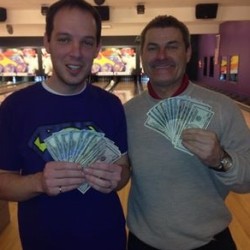 The Buddies Pro Shop.com Adult Bowlers Tour continued its season on Sunday, February 15th, with the only Over/Under 45 Doubles Event of the Season.  This event has always been a big hit in the past and this year did not disappoint.    The event saw 42 doubles teams or 84 bowlers compete on the tough 2008 USBC Men's Nationals Pattern.  The original plan was to use a pattern from the 2015 National Men's Championships….but as of the tournament date, the patterns were not released.  So, we elected to go back and use the 2008 Pattern from when Men's Nationals were held in Albquerque, New Mexico.  Back in those days, the patterns were quite tougher and that showed in this event!
With 42 teams, we paid out a guaranteed $2000 for 1st place and the top 8 teams cashed on this day.   The format was 6 games of qualifying.  The top 6 teams qualified for the finals….with the finals being an NFL Bracket.  Seeds 1 & 2 received a bye for Round 1.  In Round 1 of finals, seeds 3 vs 6 and 4 vs 5 bowled head-to-head in a 1 game match.  Winners advanced to bowl seeds 1 & 2 in a 1 game match.  Each semi-final winner then bowled in each other 1 Game for the title.
On this day, Keith Poppiti and Mike Taylor took home the $2000 top prize.  Poppiti & Taylor were seeded 2nd after the 6 game qualifying round at +151 or 2551.  They only trailed tournament leaders Scott Denlinger & Rick Graham.  In the finals, we saw the following results:
Round 1:  6th seed Kenny Lane & Howard Marshall defeated 3rd seed Ryan May & Jacques Jacobson 421-377
4th seed Dan Schriner & Scott Shiner defeated 5th seed Ryan Porr & Ken Pugh 484-408
Round 2 saw some excitement.  The matches were #1 seed Denlinger/Graham vs #6 Lane/Marshall.  The other match was #2 Poppiti/Taylor vs #4 Schriner/Shiner.
Both matches came down to the late stages of the 10th frame.  In the first match, Lane/Marshall were in the lead.  However, Marshall leaves a wash-out and converts it in the 10th to post a score of 392.  Graham knew he had to double to win the match for his team.  He throws a perfect 1st shot in the 10th frame and STONES an 8 pin.  Lane/Marshall defeated Denlinger/Graham 392-372.        In the other match, Schriner/Shiner led Poppiti/Taylor.  Shiner was up in the 10th frame and needed just a mark to shut them out.  Shiner leaves the Greek Church (4-6-7-9-10)….5 count.  Realized that to now win for his team, he needed 4 pins of 5.  He tried to convert and only got 2 pins on the fill ball…..causing Poppiti/Taylor to defeat Schriner/Shiner 451-449.
In the title match, it was #2 Poppiti/Taylor & #6 Lane/Marshall.  This match was not as close as the others.  Poppiti/Taylor jumped out to a lead and maintained it thru the entire game.  Poppiti/Taylor defeated Lane/Marshall in the title match 413-383 to take home the $2000 title.