PJBT #3 of 31 – STEVE BROWN MEMORIAL Singles/Doubles Youth & Adult @ Palmyra Bowling Center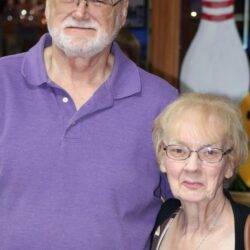 ** MAX ENTRIES TOTAL OF 96 BETWEEN YOUTH & ADULTS **  WHEN SIGNING UP, PLEASE USE "CUSTOM AMOUNT" OPTION TO PAY BEING ENTRY FEE IS DIFFERENT FOR THIS EVENT.   Entry Fee $40 PJBT Members / $45 PJBT Non-Members / $50 Adults
The 2nd Annual Steve Brown Memorial Scholarship Tournament is open to All Bowlers Youth & Adult.
TOP PRIZES $500 CASH for ADULTS — $200 SCHOLARSHIP for YOUTH — Additional PAYOUTS for Doubles Portion of Event
The event starts as a singles event with 3 Divisions.  Adult Scratch / Youth Scratch / Youth Handicap.  We will conduct a 6 game qualifier for each division and the results of the singles event are final.  The top Youth & Adults in Each Division will be teamed together in a blind doubles format.  The doubles event is 3 games with a livestreaming baker doubles stepladder finals.
This event in memory of the great Steve Brown who coached many of our youth and attended PJBT events every weeks for many years until his passing in 2019.  He also donated funds to our scholarship events during the seasons he attended.
Don't miss it!  Come on out for a fun/unique format event.  Sign up online with the link below.  Please make sure to state in the information what division you are bowling in.  All bowlers 21 years of age or older or sanctioned adult compete in Scratch.  Any of our regular PJBT bowlers (age 21 & under) can compete in the youth divisions.
Event Information
Event Date/Time: 09-27-2020 @ 10:30am
Palmyra Bowling, East Main Street, Palmyra, PA, USA