Eric Erb & Lexi Kile Capture Singles Titles at Palmyra Bowl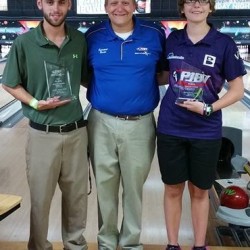 The PJBT rolled into Palmyra Bowling Center in Palmyra, PA, for our 2nd PJBT event of the season.  This event was the first event of the season being bowled on a house condition.  The event saw a record 98 bowlers come out for this event.  98 is the highest turnout we have had for our 2nd event of the season ever after the big opening tournament.   The event saw 54 bowlers competing in scratch and 44 in Handicap.
In Scratch, Eric Erb captured his 1st PJBT title of the season and his 9th career PJBT Title.  In the first two events, Eric has dominated the events.  Last week, he dominated our opening tournament as the tournament leader but was not able to come away with the title.  This week he got redemption!  Erb stood in 5th place out of 54 after qualifying.  Eric shot 300 during Game 3 of qualifying to win half of the 300 Pot for $39.  He split it with Sam Bortnick who also shot 300 during qualifying in the same game.  Erb had 202-192-300-236-205 to be at +135 or 1135 after 5 games.  The top 22 bowlers made the first cut and the cut score was 1015 or +15.  Erb then boosted himself to the lead in match play with high games and matches won.  Entering the stepladder finals, Erb was the tournament leader.  In the title match, Erb took on Sam Bortnick.  Bortnick entered the finals in 3rd place and was coming off 2 stepladder wins vs Jarrett Defalco and Alex  Glinski.  In the title match, Erb got off to a strong start with strikes while Bortnick struggled to get a double.  Erb took the lead and never looked back.  Erb defeated Bortnick in the title match 203-180 and won the $200 top scholarship prize.
In Handicap, Lexi Kile got her 3rd career PJBT title and first of the season.  Her road to victory was not as easy but she earned it.  Kile shot 172-141-133-155-207 for 5 games…with her handicap she stood at +88 and was seeded 8th after qualifying.  18 bowlers of the 44 competing made the first cut.  18th Place was +7.  Kile won 2 of her 3 match play matches and propelled herself into 4th place entering the 5 person stepladder final.  She trailed tournament leader James Carnal, 2nd seed Tanner Goggin, and 3rd seed Brendan Hunsicker.  To win the title, she walked the ladder.  She won all 4 stepladder matches.  First, Kile defeated #5 seed Hayden Capper 221-201.  In Match 2, Kile defeated Brendan Hunsicker 190-138.  In the semi-final match, Kile bowled her highest game ever and with handicap shot 292.  She blew out Tanner Goggin 292-143.  In the title match, Kile and James Carnal were neck and neck until the late frames when Kile struck twice and pulled away.  Kile defeated Carnal 215-171 to take home the title and the $200 top scholarship prize.
On this day, 18 bowlers won scholarships and we gave away over $1500 in scholarships.