Goddard & Gitlitz Win 1st Ever Combined Fall Event PJBT/JBT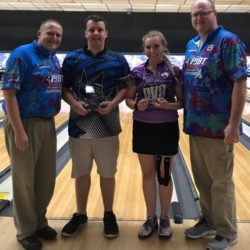 The PJBT continued its 19th Season with a first-ever Fall Combined Event with the Junior Bowlers Tour (JBT) of the Northeast.  Many people know that one of the major reasons the PJBT started 19 years ago is because of tournament director Matt Himmelreich's love and passion for competitive youth bowling.  In his day, the only tour on the northeast was Chuck Pezzano and the JBT Tour.  Through Matt's love for competitive bowling….the PJBT was created.  Years later, it was great to have the opportunity to do a regular season singles event as a combined event.  Every year we do BEST, our big money event in June of each year….but this event was the first during the regular season of PJBT.
This event provided a unique format and major payout scholarship money!  This event was sponsored by MAPS Scholarship Program at PJBT.  On this day, we saw 46 competitors take to the lanes.  The top 12 in each division were guaranteed scholarships.
The format was 6 games qualifying…..top 12 in each division bowled 3 games to determine seeding for the top 12 finals.  The finals was the PWBA format finals.  Bowlers are broken into groups of odds and evens.  Seeds 1 & 2 get an automatic bye to the semifinals.  Seeds 3-5-7-9-11 and 4-6-8-10-12 compete.  They bowl 1 game and the top 3 of 5 advance.  Game 2 the top bowler of 3 advance to the semifinal.  Semifinal is 1 vs remaining bowler and 2 vs remaining bowler.  Winners then bowl each other 1 game for the title.
In Scratch, Ryan Goddard brought home the top $500 prize.  Goddard started off consistent with games of 224, 190, 207, 192.  In Game 5, he shot 257 and followed it up with 218 to jump up the leaderboard.  He was at +88 (1288) for 6.  He was seeded 6th out of 12 entering the match play round.  12th place first cut was +11.  In Match Play, Goddard went to the top!  He went 2-1 in match play but his 3rd and final match play game was perfect!! He shot 226(W), 223 (L), and a perfect 300 Game!  The 300 game earned him a $21 Bonus and he was the tournament leader entering the 12 bowler final.  He didn't have to bowl until the semi-final of Group A.  In his Group A final match, Goddard took on Brian Kennedy.  Goddard defeated Kennedy 202-190.  This advanced him to the title match to take on #12 seed Brandon Bohn.  Bohn who had survived two shootouts and won his semi-final match came in hot.  In the title match, it came down to the final frames.  In the end, Goddard defeated B Bohn 224-203 to take home the title.   Goddard won a total of $521 in scholarship and plaque for his win.
In Handicap, Morgan Gitlitz was our winner.  Gitlitz entered the event with a 177 average and 20 pins handicap.  During qualifying, she shot scratch games of 188, 182, 192, 191, 266, and 160.  After 6 games, she stood at +99 (1299) and was seeded 2nd entering the match play round.  The 12th place cut for handicap was -91.  In match play, she went 3-0 and took the lead on the leaderboard. Games of 218, 234, and 204 propelled her into the lead.  She entered the finals in the Group A Final Match vs #11 seed Kristina Colon.  Gitlitz dominated this match, winning 210-144.  This advanced her to the title match vs #2 seed Tommy SanFilippo.  In a close match that was survival of the fittest…..Gitlitz outlasted SanFilippo 153-137 to take home the victory.  Morgan Gitlitz won a $500 scholarship and plaque for her win.
In all, we gave away over $2,500 in scholarships.  Thanks again to the JBT for participating in our combined event.
Next Week:  One of our biggest events of the year is the BOWLING CENTER CHAMPIONSHIP TEAM TOURNAMENT.  The action will start at 10:30am 11/5 at the New Parkway Lanes in Allentown, PA.